As every year, we look back at the end of the year. And again, there are things that went well and things that didn't go so well. Just like in the Netherlands and the rest of the world, Sierra Leone is also seriously dealing with the consequences of COVID and the Ukraine war. Energy and food in Sierra Leone have also skyrocketed in price. Particularly with regard to energy, there is a challenge for the FAD, with all the of sun that shines in Sierra Leone!
Let's put everything together
Eye care
SECOM
An organization we have been working with for 5 years now
At the beginning of the year, Henk (ophthalmologist in Tilburg) and Maria Veraart accompanied them for a few days, gave further training and encountered things that could certainly be improved, learned a lot from SECOM, gave advice to SECOM, and gave advice how FAD could improve the quality of eye care programs/support for them.
SECOM now also has its own optical shop and has been able to purchase an autorefractor/keratometer via FAD and MEDIC Apeldoorn to measure eye strength and to prescribe a good prescription for glasses
This autumn, Berend again provided further training, with a particular focus on medicines, the side effects and their applications in certain eye diseases.
They were able to perform 240 cataract operations on patients who could not afford it themselves. This was partly made possible by gifts from:

Rotary Club North Netherlands Germany who drove a rally by car, the benefit of it was for cataract operations
A wonderful gift from Thrift Shop Snuffelpand Ridderkerk
And also a gift from Surgeonfish Charity, a medical device company
Kissy
The eye hospital in the capital Freetown, with which we have been working for more than 10 years, FAD has arranged transport for an OCT scan device.
Lunsar
For the eye hospital in the centre of the country, with which we have been working for 12 years, the FAD has arranged the materials and raw materials for the production of eye drops.
Masanga
A newly set up eye department in Masanga hospital in the north of the country. Here, the FAD facilitates a Dutch ophthalmologist, Pieter Slager, who now lives and works there permanently to provide eye care and train nurses.
We also gave the availability for 50 cataract surgeries for patients who cannot afford it themselves.
Education
GTZ, the school where we provide scholarships to 15 student in healthcare to be trained. All 15 of them are doing very well and clearly enjoy it. Their second year of study started in September.
OIC, the technical school in Makeni where we annually provide scholarships for the education of 8 young people without future prospects, so that they can do a technical education.
We visited a number of graduates who were on an internship

On the photo Francis Conteh a plumber  at his internship
And Mohamed Bangura with great pleasure at his internship for a car mechanic
And 3 architectural draftsmen at their internship. On the photo Abdulai Bangura and Boyce Davies, who enthusiastically show us what they have learned
In addition, another 8 new students have entered this year
Solar training
The FAD is negotiating with a solar installation company how we can give further training to young electricians trained by us so that they can install solar energy.
The school for the blind in Freetown
This school has been supported by FAD for years, was hit by a fire at the beginning of the year. It has brought very frightening moments. Fortunately, everyone escaped without injury. However, the material damage was great. We were able to help them with extra food and clothing. Everything is now back on track. We were able to make them happy again with a typewriter, which is always very much appreciated.
The school for the blind in Kabala
We visited the school at their request, this school is located in the far north of Sierra Leone. We were able to bring sportswear for all the children of the school. We provided a solar system for their water pump and we promised them to help the orphans at the school with food for a year during the school holidays.
Solar projects
To make use of the sun, which is available in abundance in Sierra Leone, we have pre-financed solar panels for 3 families.
Medical posts
The FAD has the two medical posts that have been supported by us for years. A few years ago we donated a supply of medicines. They use the proceeds from this stock of medicines on the one side to maintain the stock of medicines and on the other side to maintain the healthposts

Sumbuya, the station that we already renovated in 2009. They used the proceeds of the donated medicines this year to refurbish the staff house, roof and solar lighting
Masuri, another medical post, used the proceeds for a new roof for the delivery room.
We thank everyone who supported us in one way or another
New (sports) clothing that we are receive everytime,

A part sent via a container to the Masanga hospital
Part sent through the Wegdam foundation for the people of Kamakwie in the north of the country
And a part was sent with the container that also transported materials for Kissy hospital in the capital.
Finally, all the clothing has been delivered in good places.
Baby clothing, bed linen, bandages and medical materials, which we can always take with us for the two medical posts
Medication and medical materials for eye care for our eye projects
Space made available where we can store all the donated materials
And of course the many financial donations, with which we can achieve our goals.
And also important, the doctors and other specialists who voluntarily went to Sierra Leone for FAD.
And everyone else who contributed in other ways.
Thank you all very much everyone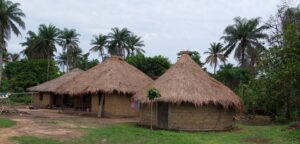 We wish you all a very healthy and prosperous 2023
James, A.K.K., Daniel
Berend, Wim, Bert and Beppie