It is some kind of a tradition that we give a retrospective at the end of the year. And that is worth it, because a lot has happened, both successes and less successful things, which we then call challenges. Meanwhile there have been peaceful elections at the beginning of this year, and we are seeing all kinds of positive developments in the country, particularly the infrastructure.
What has happened within the FAD this year
Agriculture
In Fabaina, where we only had plans at the end of last year, 33 acres of bush have now been converted into agricultural land. From February to April, the group of farmers was manually engaged in clearing the tree / bush of this parcel. In May there was mechanical ploughing and edging, with lots of fits and starts, so that in June, luckily, the rice could get into the ground in time.
In July this year, the rice is in good shape
AKK, one of the local representatives, supervised this entire project and was often present at the farm. The rice grew prosperously and looked particularly good.
Early November, ready to harvest
When the farmers  just started harvesting in November, unfortunately ……… an insect plague that ate about 70% of the rice.
Only the rice in the swamp-like part was not susceptible to these insects. It was a huge blow both for the farmers and for our local FAD people. So much work has been done for nothing.
In December we made new plans for next year with the farmers' group, based on advice from the agricultural agencies in Sierra Leone. It was a relief to them when they heard that the FAD wanted to go further despite the setbacks.
Individual training/education
Nine pupils have completed their nursing training on various levels this year and are now working. Aminata, Kadiatu, Josephine, Lovetta, Victoria, Gbassy, Marian, Mamusa and Mariama. Almost all of them now also have work, in medical posts, with the police as nurses, in a pharmacy or as an independent nurse in communities. A nice result.
In the meantime, 10 new pupils have re-entered, for nursing courses at various levels.
Lucinder, now working in Sumbuya MP, has been able to achieve her high school level, and will also be taking a nursing course next year.
This also applies to Antonio, 9 years ago we met him as a little boy, he was orphaned and was taken under the care of the medical post in Sumbuya. Meanwhile, we let him do high school and while waiting for his exam results he flows into a nursing course.
Six of the 10 students in training + Antonio
Six young guys go to a technical school, one welding, two construction and construction work, two plumbing and one land survey. The school is in Makeni a place at 100 km away. So they also have to live there, every week the head of the school reports how things are going. All six are very motivated and doing very well.
An eye nurse, Amadu, will follow a two-year training in Gambia to be trained as a cataract nurse. After study he will be able to conduct cataract operations. Because this is a fairly expensive training, we have managed to share the costs with CBM (Christoffel Blind Mission, a German organization)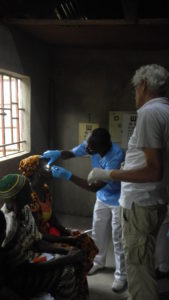 Amadu at work under the watchful eye of Wim Klein Poelhuis
And then Fatima, the blind woman that Henk and Maria wrote about in the previous weblog of May. She is completely settled well in the school for the blind, she has mastered the entire braille in a few months and uses the typewriter. She really blooms completely. The only bad thing is the school vacations, because then she can not go to school. You get an impression of her in the accompanying video. The school still needs mechanical typewriters, so if someone has one in the attic and no longer needs it ……
Fatmata, in conversation with Daniel and AKK.
The dormitories in the school for the blind, very neat and  well
Eye care
Once again this year we were able to let ophthalmologists go to Sierra Leone, they worked on a voluntary basis for several weeks in hospitals. In April Henk Veraart and in December Pieter Slager. In addition, Wim Klein Poelhuis and Berend Schaeffner were both in the spring and in the autumn to give training and guidance on issues related to eye care and the production of eye drops. In addition, they have also made new contacts with hospitals that want to include eye care in their program.
For the second time in Dibbya, a village in the north of Sierra Leone, training has been given to 30 blind people, so that they can walk now independently and have learned how to garden.
For 628 people with cataracts we were able to pay for the operation, a record number this year. The people are being operated in 2 hospitals with which we already collaborated, and now for the first time also by a small organization called SECOM, who approach people in the outlying area in a very accessible way
The visual measurement
The unit where they produce eye drops, accompanied by the FAD, goes in the right direction, both in terms of quality and quantity. There is a lot of effort and energy in it, but with result. For the first time they also sell to other hospitals, making it a good source of income for the hospital.
MicrocreditsA difficult path, where still some villages do well, but most villages very difficult to pay back, despite all the efforts AKK, Daniel and James do. The intention is to complete as much as possible this coming year
Medical posts
The medical post in Songo has now been brought to a higher level by the government, which now also provides them with the necessary support. That is why the FAD decided to stop help after 6 years and to use it at another medical post. Together we look back on a good time together.
The medical post in Sumbuya keeps our attention and we have again supported with medicines. The building is maintained on the proceeds
The new team of medical post in Sumbuya completely motivated
We also have a medical post in Fabaina that we are going to help in the coming year, discussed  is going to be in which way
The medical post in Fabaina
We have had many gifts/donations again this year. So much so that we have sent a container with all materials. Many sportswear from soccer club Hoogland and Woudenberg and hockey association Leusden, the furniture and materials of an optical shop in Tilburg that was going to move, much furnishing a department of a hospital in Tilburg, new car tires from Intermotive for our car in Sierra Leone. And also a lot of clothing and materials from all sides and financial contributions, both periodically and occasionally, super! Thank you very much
It was a busy year with all activities, both here in the Netherlands and the FAD team in Sierra Leone.
We wish everyone a very nice, healthy and nice 2019.
Berend, Wim, Daniel, James, AKK, Bert and Beppie
And how beautiful Sierra Leone can be ………..