In October we came to Sierra Leone with quite a big team. In the first week we had dr.Wim Klein Poelhuis,  dr. Berend Schaeffner, dr Janneke van Lith-Verhoeven ( a Dutch eye doctor) and her husband Yannick van Lith.  Wim and Berend organized a training for eye care workers The workshop lasted for 2 days and participants came from Freetown, Lunsar,  Makeni and  Masanga.  The training involved anatomy of the eye, first aid  for the eyes and  how to diagnose eye diseases. At the end of the workshop the particiapnts received a certificate, a simple solar slitlamp and a study book. In the second week Wim and Berend went back to Holland and Bert and Beppie came to Sierra Leone to visit the other projects of FAD For Janneke and her husband it was the first time in Sierra Leone, their objective was to get to learn Sierra Leone and  the way of surgery of  cataracts in Sierra Leone. ~
~~~~~~~~~~~~~~~~~~~~~~~~~~~~~~~~~~~~~~~~~~~~~~~~~~~~~~~~~~~~~~~~~~~
Janneke wrote her experiences during these weeks:
"The 4th of October we went to Sierra Leone, together with Wim, Berend, and Yannick, my husband. My objectives are to know both eye hospitals, BEHL in Lunsar and Kissy Eye hospital in Freetown and to get trained in surgery in the way it is done in Sierra Leone.
At our arrival we were picked up by the car of Lunsar Eyehospital (BEHL). It was a two hour drive. It was a very warm welcome from David Wanka the administrator of the hospital and Mary, who had cooked a delicious meal. In the first two days we have met the staff of BEHL and learned to know the hospital and the surroundings. Beside this I could join Isatu Sesay, the cataract nurse during surgery.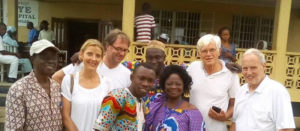 'Lunsar Eye Hospital'
It is so quite different from the way it is in the Netherlands. Every time I was impressed. It was getting clear for me that the pathology of the patients in Sierra Leone are very serious.  I saw very serious  trauma's, mature cataracts, serious glaucoma and uveitis patients. In the Netherlands I am used to do more diagnostic tests, but here  that was only partly possible.
Fortunately we could give presents like eyeglasses, lenses, surgery materials, as sign of appreciation to the hospital.
After two intensive days we said goodbye to Lunsar and stayed a few days in Companero hotel, we had a lot of discussions about living in Sierra Leone and we started to know Sierra Leone a little, piece by piece.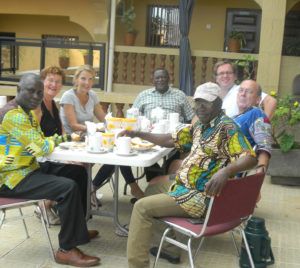 "Companero hotel"
On the Monday my program in Kissy Eye hospital started for 1,5 week. I worked a lot with dr Moges Teshome and ophthalmic nurses Zeynep and Agnes. Just like in Lunsar, I saw a lot of very serious clinical pictures. I could do a lot of surgery together with dr Moges, and I saw that you really need to know about the way of surgery, because it is sometimes quite different from the European way.
I also saw a lot of other opportunities to support Sierra Leone with the Eye care programs. FAD is doing a very good job by sponsoring poor people for cataract surgery. I like to stay involved in the future how to improve this program.
I thank the FAD team, for giving us the opportunity to get to know Sierra Leone better and to deepen myself in eye care. Also my husband was very impressed by all the experiences during these weeks. He has developed very warm feelings for Sierra Leone and will try to continue in supporting projects in Sierra Leone. We have enjoyed the company of the FAD team, this made our experience even more beautiful
~~~~~~~~~~~~~~~~~~~~~~~~~~~~~~~~~~~~~~~~~~~~~~~~~~~~~~~~~~~~~~~~~~
Meanwhile the FAD is planning for sending other eye doctors next year to Sierra Leone. The input of Janneke will bring that the FAD will have a lot of discussions how we can support eye care in Sierra Leone in the coming years.