The year 2015 is coming towards and end,  time for some reflection!
It has been quite an eventful year, especially the outbreak of Ebola had a great impact. On one hand it was the threat for all of us in Sierra Leone, at the other hand  there was the aftermath for the relatives if victims, the people  who survived and the following economic crisis.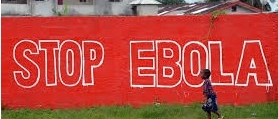 It was great for us to be in Sierra Leone on the moment that the WHO declared the country free of Ebola.
Eye care
Despite this we managed to keep the FAD Projects going except the eye care. The eye care had to slow down due to the high risk of infection. But fortunately this will change now: at this moment Dr. Peter Slager (expatriate eye specialist from the Netherlands) came to the eye hospitals for assistance and next January another eye specialist, Dr. Anita Jansen, will go for three weeks to the eye hospital
In January also the other team members like Dr. Wim Klein Poelhuis and Dr. Berend Schaeffner will join for an eye camp!
And although the clinical eye care came somehow to a slow down last year, we still continued to give  financial support for 325 cataract operations and for medical care for eye complications to people  who were affected by the Ebola. FAD received a lot of compliments for this assistance.
Agriculture
The Agric Project was able to continue despite all problems: at the moment Apr. 30 farmers are self supporting after the initial assistance of FAD. They now have a reasonable income that enables them to maintain their families and to send their children to school.
There is still a women's group that gets support for their agricultural activities; the excessive rain gave a set back.
A new activity is the growing of banana's without fertilizer; the crop will be sold to an organization supported by the Ministry of Agriculture. The FAD gave initial funding, further coaching will be done by the Government.
Fishery
The Fishing Project has been affected heavily by the Ebola outbreak.
It was not allowed to go for fishing between  6.00 pm to 6.00 am.  So the fishermen could not go far. Another handicap was the ban on markets. Fortunately these measures have been lifted and  the catch is good again.
Individual education
Seven persons receive support in order to do a professional training, mainly for nursing. Schools have been re-opened and students can continue their education.
The country has a high need for nursing staff after the death of many of them during their help for Ebola victims.
People in the Netherlands give support to them and the FAD plays a role as an  agency between them.
Microcredits
In 2015 the FAD has started to provide micro-credits to beginning entrepreneurs. So far 100 persons received a micro-credit in order to generate an income of their own. We mention as examples weavers, tailors, chicken farmers, piggeries, petty traders and so on.
Some people use the micro credit to maintain their living during the period of setting up a long term business.
Although  we have limited ourselves so far to vulnerable groups like amputees and polio victims, the results are quite satisfactory. Next year we will  have a professional evaluation of the results. This may lead to further  extension of this FAD initiative.
Clothing
Here in The Netherlands   also a lot was going on: financial donations were given (Thank you very much!! ) but also clothes, sporting materials, medical equipment, towels, sheets, children's wear. These goods were shipped by another Dutch voluntary organization (the Samaritan) . This was a great opportunity: 122 sports bags filled with clothing. During our last visit in November we were able to distribute part of this shipment. People were happy, not only with the clothing but also with the sporting gear ("..we never had sport shirts before!!!…)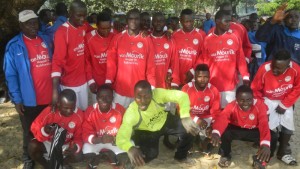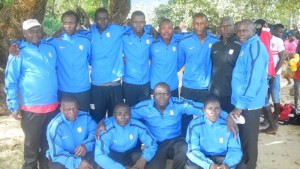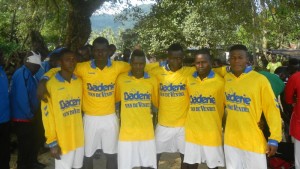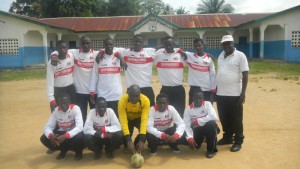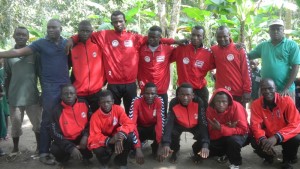 This December month our local counterparts James, Abdul and Daniel have been distributing the rest of it.
For now
Now we are planning our activities for 2016, it is challenging and there is still a lot that has to be done. We like to thank all our supporters in whatever way they have contributed.
And of course; we wish you a MERRY CHRISTMAS AND A HAPPY NEW YEAR!
James, AKK en Daniel                   &                          Berend, Wim, Bert en Beppie
FAD team Sierra Leone                                                          FAD team Nederland